2023 Dodge Hornet Review

The forthcoming Dodge Hornet of 2023 is a compact sports car with impressive performance capabilities. It features a turbocharged 2.4-litre four-cylinder engine that generates 300 horsepower and 310 lb-ft of torque, available on both the GT and GT Plus trims. With a sleek, aerodynamic design, advanced technology, and exceptional handling, the Dodge Hornet promises an exciting driving experience on both the road and the track.
The interior of the 2023 Hornet on both the GT and GT Plus come fully equipped with all the amenities you could ask for in a sports car, including the option of premium leather seats and newly improved performance features that can be accessed at any time. The interior of the Hornet is all-black with artisan-crafted features and high-quality materials on the dashboard, tunnel bezels, and upper door panels. The available heated techno-leather steering wheel adds a measure of comfort and versatility. You can sit like a king or queen on our available full leather or Alcantara seats, which provide a comfortable and fitting seating experience. The front seats can come with available heating and ventilation and come in different colours and finishes to enhance the luxurious ambiance of the cabin. The 2023 Hornet lets you enjoy a comfortable ride without leaving the car. It has 8-way power seats, a rear central armrest, and three rear headrests to ensure maximum relaxation. In addition, the 60/40 split-fold-down seat backs make it challenging to resist driving in the car.
The exterior design of the Dodge Hornet GT and GT Plus include LED high and low lights and LED daytime running lamps that add to the overall sleek appearance of the Sports car. The LED taillights are designed to provide clear visibility of the vehicle's rear, making it easy for other drivers to see you. If you opt for the special appearance packages, you can choose from the Blacktop Package or the Track Pak.
The 2.0-Litre T4 engine in the Hornet GT and GT Plus provides an impressive 268 horsepower and 295 lb-ft of torque, making it the quickest gas CUV available. With a standard 9-speed automatic transmission and all-wheel drive, the vehicle comes designed to provide maximum power and performance on the road. It can reach top speeds of up to 225 km/h, earning it a reputation as a true powerhouse. The 2023 Hornet GT boasts impressive power and delivers exceptional handling on the road. Its 59/41 weight distribution is perfectly balanced, and the Torque Vectoring System delivers precise engine torque to the ground with electronic accuracy. This system, combined with the front MacPherson suspension, creates a unique, sporty, efficient driving experience.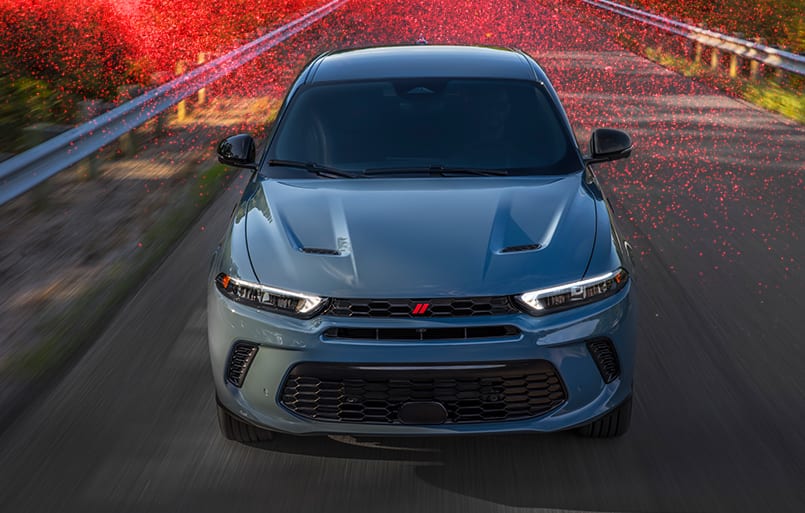 Blacktop Package
This aggressive package gives your Hornet a bold appearance, with its Gloss Black painted daylight opening, black mirror caps, 18-inch Black Gloss painted wheel, and black badges.
Track PAK
Show off your racing spirit with the Track PAK available on all models. This package boasts 20-inch Abyss wheels, dual-stage valve suspension, Alcantara sports seats with red accents, aluminum interior accents and pedals, a sports leather steering wheel, and red Brembo brake callipers.
Dual Stage Valve Suspension
The Marelli Dual Stage Valve Suspension adjusts to your driving mode. In sport mode, it stiffens to reduce body roll and improve cornering control, while in standard mode, it softens to enhance comfort. This feature comes with the Track Pak package.
Frequently Selective Damping Suspension
The Hornet's unique Frequently Selective Damping Suspension system utilizes a state-of-the-art passive spring and bypass valve technology to absorb shock and deliver a smooth ride while enhancing handling and control in unpredictable road conditions.
Harman Kardon Sound System
The Harman Kardon Sound System in the 2023 Hornet is widely acclaimed as Best-in-Class, providing exceptional audio performance. The system has 14 premium speakers, including a subwoofer, positioned to deliver sound throughout the car for an unparalleled listening experience.
Touchscreen + Navigation
Experience 10.25 inches of the Uconnect's customizable touchscreen with available TomTom navigation on the Dodge Hornet. Display your maps on the 12.3-inch cluster display for convenient map viewing.
Power Sunroof
The 2023 Hornet offers a power sunroof for those who relish fresh air and sunshine while driving. The sunroof provides an additional window to open, bringing the outside world inside and allowing for a more immersive driving experience.
Apple CarPlay and Android Auto
The integration of wireless Apple CarPlay support and Android Auto compatibility allows your favourite smartphone apps to live conveniently on your vehicle's Uconnect touchscreen, providing easy access to them while driving.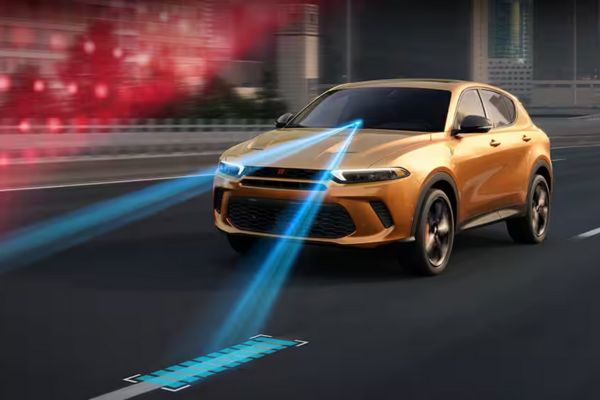 Highway Assist
The 2023 Hornet offers the Highway Assist system, enabling drivers to achieve Level 2 autonomy on highways and main roads. The car can steer and accelerate, allowing drivers to maintain speed while retaining control.
Intelligent Speed Assist
The 2023 Hornet has Intelligent Speed Assist, which keeps a consistent speed using a pre-programmed system. This Dodge Hornet uses scanners to detect traffic signs and adjust its speed and following distance, creating a more relaxed and safer driving experience.
Drowsy Driver Detection
The 2023 Hornet includes Drowsy Driver Detection to prevent accidents by identifying signs of fatigue while driving. Through audiovisual alerts, the system notifies the driver after prolonged driving or if the steering behaviour indicates drowsiness, making it a valuable safety measure.
Additional Safety Features
360-Degree Camera
The 2023 Dodge Hornet's 360-degree camera provides drivers full visibility of their surroundings, ensuring safety and convenience on the road.
Auto High Beam and Rain Sensing Wipers
The Hornet features intuitive systems like rain-sensing wipers and automatic high beams that aid drivers during heavy rain or traffic in close proximity.
Rear Back-Up Camera & Sensors
The rear back-up camera and rear parking sensors on the Hornet trigger dynamic guidelines on the vehicle's interface when in reverse, helping drivers see their wheel placement and vehicle trajectory to aid in parking maneuvers.
Horsepower: 268hp
Transmission: 9-speed automatic
Engine liters (L): 2
Compressor: Intercooled turbo
2023 Dodge Hornet GT Plus
Horsepower: 268hp
Transmission: 9-speed automatic
Engine liters (L): 2
Compressor: Intercooled turbo
Contact My Mississauga Chrysler to schedule a test drive today to learn more about the 2023 Dodge Hornet available in our inventory. If you are also in and surrounding cities of Georgetown, Brampton, Etobicoke, Vaughan, Bolton, Caledon, Barrie, Milton, Orangeville, and Meadowvale, to learn more about the 2023 Dodge Hornet.